RHE1E22XW ALIGN E1 PLUS Agricultural Helicopter Combo (Two-Blade Rotor Head) (Special Order)
Brand New ALIGN E1 PLUS Agricultural Helicopter!
The battery compartment accommodate 80mm x 70mm large-capacity batteries, so the flight time can be reached up to 20.5 mins with 12S 44.4V 16000mAh (6S1Px2) battery, which provides stability for high-load operations , sufficient power performance, and improve work efficiency. In addition, the three-section canopy design can make easy for battery replacement and provides better protection for the body. In terms of function, it has also improved to a higher level. In addition to optimizing the existing functions, it also provides new functions such as the latest AB+ automatic navigation mode.
●Longer Flight Time Up To 20.5 Minute (16000mAh)
●Obstacle Avoidance Radar
●Headlight Remote Control
●Adjustable Up and Down HD Image
●High Wear Resistance Torque Tube Drive Gear
●High Endurance and Efficiently Save Power 15%
●High Pressure 6 Nozzles with Large Spraying at 4L/min
●Newly High Stable Auto Flight Control System

Win the 26th Taiwan Excellence Silver Award! ALIGN E1 Agricultural Helicopter is revolutionizing the way agriculture is done. It's an advanced helicopter for modern green farming and spraying that can be competed up to 0.48 acres per minute; 30 times faster than traditional machinery. Specially inherit "Helicopter" body design, when it rotates, the strong airflow will carry the spraying directly down to the whole plant leaves and roots reducing the loss cost of spraying.

ALIGN E1 is designed with composite material and 3K Carbon Fiber that is lightweight but extremely durable. Besides, it features well water proof, rust proof and oxidation proof also high quality finish. It's capable of switching the 15KG chemical containers in 5 seconds reducing the risk of being dangers of exposing ourselves to the pesticide. There are two types of fan-shaped nozzles can be used for adjusting output to different plants.

ALIGN E1 adopt sonar altimeter to detect the terrain height so the helicopter can adjust to maintain the same distance from the plants to provide a uniform spray across all crops. Also it has built-in triple sensor positioning module with GPS, Glonass and BDS system providing precise, stable and real-time positioning. Moreover, it's compatible with P2 PCU (Power Control Unit) allow to distribute and integrate the power supply safely.

Align AP2 intelligent flight controller has built-in ARM Cortex-M4 32 bits 180MHz processor supports multiple flight modes (such as Attitude/GPS/Intelligent), Auto Return Home and Rescue Return Home, Low Voltage Protection, OSD output and Gimbal Control. Moreover, in our highly integrated ground station, the automated mapping function will compute the best spraying route for you or allow you to map preferred pattern. Other ground station functions like Optical Radar Terrain Detection System, Altitude Positioning, Equipped Video and Spray System Monitoring can also achieve advanced spray capacity for safe, efficient and convenient way to deliver superior crop protection.
Focus Shots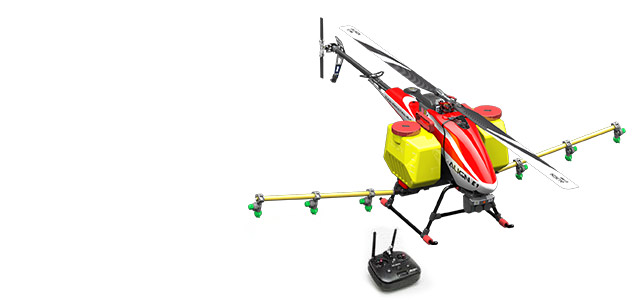 Shipping Instructions
Pre-assembled and well-tested in factory.
Packing Dimension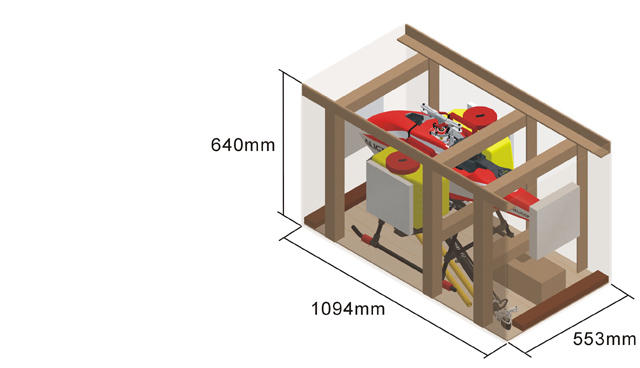 Standard Equipment
●ALIGN E1 Kits Set x 1 set
●900mm Carbon Fiber Blades x 1 set
●120mm Fiber Tail Blades x 1 set
●A13 GST Transmitter set(include A6B Receiver) x 1
●7.5L Chemical Container x 2
●Main Power - 900MX Brushless Motor x 1
●200A ESC Brushless Motor Controller x 1
●AP2 Flight Controller System x 1
●P2 PCU Power Control Unit Set x 1
●1080 DV Two-axis Gimbal Set x 1
●Millimeter Wave Radar x 1
●VTD1 1080 HD Digital Video Transmitter Set x 1
●Obstacle Avoidance Radar System x 1
●High Pressure Spraying System (4L/Min) x 1
●Super Bright LED Front Headlight x 1
●Spraying Tube LED Light-White x 2
●Screw Driver x 1 set
●Ball Link Plier x 1
●8" Hood for Tablet x 1
●ALIGN Flying Simulator Set x 1
ALIGN E1 PLUS Product Specification
●Body Length:1587mm
●Body Height:570mm
●Body Width:427mm
●Main Rotor Length:900mm
●Main Rotor Diameter:1986mm
●Tail Rotor Diameter:313mm
●Empty Weight:Approx. 13.7kg(w/6S 12000mAh Battery x2)
●Takeoff Weight:Approx. 24kg (with 10L chemical container)
●900MX Brushless Motor
●Max Output Power:5100W/11000W(2sec)
●Chemical Container:15L
●Maximum Working Speed:8M/sec
●Spray Efficiency:Spray up to 0.48 acres per minute (1 acres per= 4046 Square meters)
●Spray Operation Flight Time:(Payload : 10L ; Flight Currency : 60A)
 Approx. 17min.(w/12000mAh Battery/900mm Blades)
 Approx. 20.5min.(w/16000mAh Battery/900mm Blades)
●Flight Time Without Payload:(Included spraying equipment / Currency : 30A)
 Approx. 20min.(w/12000mAh Battery/900mm Blades)
 Approx. 25min.(w/16000mAh Battery/900mm Blades)
●High Pressure Spray System
Atomized particles:
SF11002:136~177 Micron
SF11015:< 136 Micron
ALIGN E1 PLUS Specification
A13 GST Transmitter
●Channel: 14 channels
●Model Type: Helicopter / Multicopter
●RF Range: 2.4055~2.475GHz
●RF: < 20dBm
●System Mode: 2.4G system AFHDS
●Power: Built-in 2S 7.4V 5200mAh Li-Polymer Battery
●Display: 128x64mm
●Transmit Distance: In the air without interference <1000M
●Weight: 650g
●Dimension: 167x180x103mm
●Certificate:
FCC, NCC(CCAK19LP0390T9)
A6B Receiver
●Channel: 14 channels
●RX Sensitivity: -105dBm
●RF Range: 2.4055 ~ 2.475 GHz
●System Mode: 2.4G system AFHDS
●Power: 4.0 ~ 8.4V
●Transmit Distance: In the air without interference <1000M
●Weight: 14g
●Dimension: 46.7x25.5x13.6mm
●Certificate:
FCC, NCC(CCAK18LP1930T2)
AP2 Flight Control System
●Input Voltage:DC 6-8.4V
●Operating Current Consumption:< 300mAh @ 6V
●Operating Frequency:180MHz
●Operating Temperature:-20°C ~ 65°C(-4°F ~ 149°F)
●Hovering Precision (Depending on Satellite Status):Horizontal ±1m(3.28ft),Vertical ±0.5m(1.64ft)
●Maximum Flight Speed:8M/sec
●Maximum Altitude Restriction:300m(984ft) above the takeoff point
●Maximum Angular Speed:Aileron/Elevator 200°/sec, Rudder 400°/sec
●Maximum Tilting Angle:40°
●Supports Helicopter Configurations:ALIGN E1 / G1
●Dimension:43.8x35.5x20.4 mm
VTD1 1080 HD Digital Video Transmitter
●Working Frequency:5~5.9Ghz
●Way of Transmission:SDR Wireless Transmission Frame
●Wide Transmission Distance:1.5~2km
●Emission Power:200mw(23dBm)
●Power Consumption:Transmitter < 2.5W,Receiver < 2W
●Latency:< 40ms
●Video Output:1080P/720P HD Digital Video Transmission
●Mobile Phone/Tablet:Android
and Flight Controller OSD Display
●Antenna:5dB Circular Antenna
●Dimension:66x62x13mm
●Weight:41.8g
900MX Brushless Motor
●Input Voltage:12S
●Max Continuous Current:115A/250A(2sec)
●Max Output Power:5100W/11000W(2sec)
●Stator Arms:12
●Magnet Poles:10
●Dimension:6x56.7x112.5mm
●Weight:570g
Millimeter Wave Radar
●Emission Frequency:24~24.20 Ghz
●Emission Power ( EIRP ):13~24 dBm
●Measurement Accuracy:±0.02M
●Update Rate:50Hz
●Range Resolution:0.75M
●Working Temperature:-40℃~85℃
●Dimension:92x63x6mm(HxWxD)
●Weight:22g
P2 PCU Power Control Unit
●Input Voltage:7.4V~12.6V
●Operating Frequency:168MHz
●Operating Temperature:-20°C~65°C(-4°F~149°F)
●Dimension:49.5x40.5x26.8mm
1080 DV Two-axis Gimbal
●Working Voltage : 5~12V
●Image Output: 1080P 30fps
●Lens Angle : 130°
●Aperture: F2.0
●Support Low Light Compensation, 3D/2D Dynamic Noise Reduction, Auto Exposure, Auto Focus, and Auto White Balance
●Capable of Gimbal Control Angle: 0° ~ -90°
●Dimension:100.4x74x111.5mm
High Pressure Spraying System
●Pump Supply Voltage:12~16V
●Pump Power Consumption:3A
●Flow Detecting:Chemical Volume Spray Detecting
●Flow Control:Spray Calculator( 0~4 L/min )
●Container Volume:15L
●Pump Control:Spray Amount Setting( 0~4 L/min )
●Pump Max. Operating Pressure:5.5 Bar
Obstacle Avoidance Radar System
●Transmission Frequency:24GHz
●Power Consumption:400mW
●Detection Range:0.5~25m(Depend on target size and material)
●Detection Angle:Horizontal 34 degree / Vertical 34 degree
●Effictive Flight Condition:
  Flight Altitude over 1.5m
  Flight Speed lower than 5m/s
●Start Safe Braking Distance:6m
●Safe Braking Distance:2~3M
●Approaching Direction:Forward-looking