Scorpion HKII-4525-520KV ULTIMATE
This is the second generation of HK-4525 series.
In September of 2010, Scorpion released the first HK-4525-520kv Limited Edition motor. Since that date, the HK-4525 has been the motor of choice for 700-class RC helicopters, and has become the performance benchmark for every other model motor manufacturer. Eighteen months later, in April of 2012, we released an improved version of this motor, the HK-4525-520kv Ultimate Edition. Since then, the Ultimate Edition motor has proven itself to be extremely successful in heli competitions, and has become the most popular motor used in competition 700-class helicopters world-wide.
Many other motor manufacturers have tried to compete with this motor, but none have been successful. We even tried for years to improve the HK-4525-520 motor but were unable to do so. Finally, after nearly 5 years of testing and development, we are pleased to announce the release of the new next generation HKII-4525-520kv Ultimate motor, which will be available July 21st, 2017!
Through improvements in motor design and materials, we have been able to increase the efficiency and power conversion of this motor with an entirely new EM field design, while improving the compatibility with various speed controllers available on the market. This new design motor will deliver even more power to your helicopter, with increased efficiency!
With the new HKII-4525-520kv Ultimate motor, we have once again raised the bar and created a new benchmark for 700-class helicopter power!
Each of the new HKII-4525-520KV ULTIMATE motor is wound with a single strand of 1.4mm wire for the highest possible efficiency. This motor is capable of running continuously at an input power of 4450 watts at 100 amps, and can handle peak inputs of 10200 watts and 230 amps for 2 seconds
Scorpion Competition Series Brushless Motors are built from the best materials available, and are designed to provide both quality and performance at an affordable price. Scorpion starts with high quality aluminum alloy parts that are produced on the latest CNC milling machines. These parts are then gold Electro-Coated to provide a beautiful, long-lasting finish. The stators are made with 0.2mm laminations to give maximum efficiency, and minimum Eddy current losses. The stators are epoxy coated to prevent shorts, and are wound with wire that is rated at 180 degrees C (356 F). The magnets used in Scorpion Motors are custom manufactured to be able to withstand high temperatures, making a motor that is virtually impossible to burn up in normal use.
Scorpion Motors are built to last, and are backed with a 2-Year warranty against defects in materials or workmanship. However, due to the high RPM of these motors, and the fact that we cannot control the installation and setup, the bearings are not covered by the 2-Year warranty, nor is any subsequent damage caused to the motor by a bearing failure. Bearings are a normal wear item, and as such, need to be maintained and changed periodically. For maximum life, make sure that a sufficient gap is left between the pinion and main gear during motor installation to avoid binding, and put a small drop of oil on each bearing every 5-6 flights. It is the responsibility of the pilot to ensure that the bearings are maintained properly.
For the best overall combination of quality, performance, and value, use Scorpion Motors in your helicopter!
*This motor is using 30mm bolt spacing on the mounting with M4 Screw holes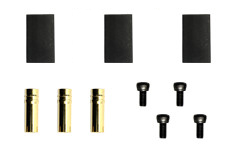 Specifications
| | |
| --- | --- |
| Stator Diameter | 45 mm (1.77 in) |
| Stator Thickness | 25 mm (0.98 in) |
| No. of Stator Arms | 12 |
| No. of Stator Poles | 10 |
| Motor Wind | 5+6T YY |
| Motor Wire | 1-Strand 1.4 mm |
| Motor Kv | 520KV RPM/Volt |
| No-Load Current (Io/10V) | 1.81 Amps |
| Motor Resistance (RM) | 0.012 Ohms |
| Max Continuous Current | 100 Amps |
| Max Continuous Power | 4450 Watts |
| Weight | 516 Grams (18.20oz) |
| Outside Diameter | 56.9 mm (2.24 in) |
| Shaft Diameter | 5.98 mm (0.24 in) |
| Body Length | 57.7 mm (2.27 in) |
| Overall Shaft Length | 112 mm (4.41 in) |
| Max Lipo Cell | 12s |
| Max Peak Current | 230A (2 seconds) |
| Max Peak Power | 10200 Watts (2 seconds) |
| Motor Timing | 5deg to 15 deg |
| Drive Frequency | 8kHz |
Weight including packaging
780g
Full Dimension
View Scorpion HKII-4525-520KV ULTIMATE Full Dimension