RHE1E09XW ALIGN E1 KIT (SPECIAL ORDER)
ALIGN E1 Kit is a helicopter with flexible and multi-functional design conforming superior flying performance. It can be as a simple helicopter for playing in spare time, or an aerial photographer helicopter with gimbal camera for filming or pictures; its reliable heavy lifting capacity can also turn it to be as a carrier or throwing device, all of that depends on requests from users.

ALIGN E1 Kit adopts new FL rotor head system using new F3C rotor holder arm that effectively doubles up the flight stability with excellent and precise control accuracy; it not only optimize flying stability around static flight also perfectly facilitate flying control in flight. 900mm Carbon Fiber Main Blades with semi-symmetrical airfoil design provide heavy payload flight with optimal buoyancy. Effectively improve the torsion resistance in flights and save more than 15% power output. The body structure is made of carbon fiber with innovative composite material embedded technology featuring lightweight and high rigidity. It highly strengthen the entire structure and well protect body from machine deformation during flight. Equipped with newly upgrade high-strength drive gear M1.25 strongly increase gear rigidity and wear resistance; also allow to reach over 500 runs for ALIGN E1 Kit.

ALIGN 900MX features high efficiency, superior power, excellent torque, low current draw and low temperature; it's capable of maintaining consistent torque and head speed, it's never better for such big heavy payload helicopter like ALIGN E1.

ALIGN E1 Kit hold all aces of functions and application in reality. No doubt you'll definitely need one.
Focus Shots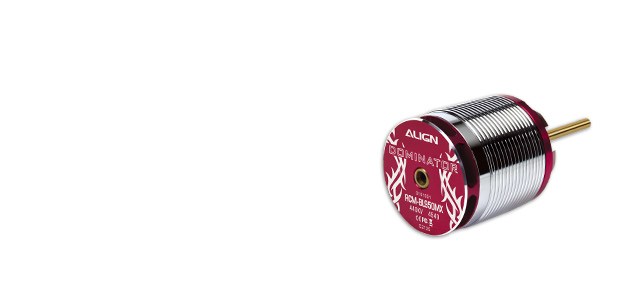 ALIGN E1 Kit Standard Equipment
●ALIGN E1 Kits Set x 1 set
●900mm Carbon Fiber Blades x 1 set
●120mm Tail Blades x 1 set
●900MX Brushless Motor x 1
ALIGN E1 Kit Product Specification
●Body Length:1587mm
●Body Height:570mm
●Body Width:427mm
●Main Rotor Length:900mm
●Main Rotor Diameter:1986mm
●Tail Rotor Diameter:313mm
●Motor Drive Gear:9T/M1.25
●Main Drive Gear:104T/M1.25
●Autorotation Tail Drive Gear:122T
●Umbrella Gear:9T/M1.25
●Tail Drive Gear:23T
●Drive Gear Ratio:11.56:1:5.30
●Weight(Without Battery):Approx. 6.1kg
900MX Brushless Motor
●Input Voltage:12S
●Max Continuous Current:115A/250A(2sec)
●Max Output Power:5100W/11000W(2sec)
●Stator Arms:12
●Magnet Poles:10
●Dimension:6x56.7x112.5mm
●Weight:570g